We have a strong family culture and provide limitless opportunities for our staff to grow and develop. JFC is a great place to build your career.
MAKE AN IMPACT
Our company is built on strong family foundations. Our culture integrates honesty and respect that builds on the company's history and solid relationships. Our strong values make us the contractor of choice.
JFC is committed to the growth of our people. We provide a range of training and development pathways with training institutions to enable our team to gain formal, NZQA-recognised qualifications from on the job learning.
We support our team to gain diplomas and degrees in civil construction, supplying the tools to pursue a structured career path. Many of our team have stepped into senior leadership roles by following these pathways.
MOVING ON UP
We promote from within and many of our team have stepped up into senior leadership roles during their time with JFC. Johnny Verry joined JFC as a foreman, and is now leading projects in our Civil Construction Division.
"The opportunities are endless with JFC, it's really easy to succeed if you want to succeed. They give you the tools and training to get you where you want to go."
"— Johnny Verry"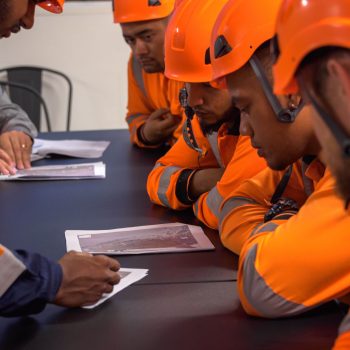 Make An Impact
Be more than a number. At JFC you'll be able to have a real impact. We empower our people to challenge the norm, find better ways of doing things and step up into leadership roles.
LEAD FROM THE FRONT
YOU HAVE STEPPED UP FROM FOREMAN, TO SUPERVISOR, AND NOW TO PROJECT MANAGER – TELL ME ABOUT YOUR CAREER AT JFC.
I came on initially as a subcontractor doing formwork for building works, then I was offered a job as foreman on the Victory Church project. After about six to twelve months, I stepped up to become a site supervisor.
Over time the team saw that I had potential for project management, which led to me managing a few different crews on a range of sites. Now I run the small works division, taking care of operations across all our small sites – this can mean anything from 20 to 50 staff or 60 subcontractors.
WHAT DO YOU LIKE ABOUT WORKING FOR JFC?
The people and the atmosphere are really good, plus there's a real variety of work – I've worked on everything from high profile streetscapes like Mission Bay through to cycleways, massive trenches, drainage and roading. I've worked on rural sites in Pukekohe through to sites right in the central city. There's a huge range.
The career opportunities are awesome, I've been really fortunate with the support and opportunities I've received. The sky's the limit if you're willing to do the work.
WHAT HAS BEEN YOUR FAVOURITE PROJECT?
My favourite would have to be Mission Bay as it was challenging, but in the end it turned out really neat. There were lots of constructability issues because it's tidal and we were working in sand, plus it's a high profile so it attracted a lot of interest.
WHAT ARE THE MAIN CHALLENGES?
This industry runs on short deadlines – you need to get in there quick and complete the work as fast as possible while still delivering the best outcome for your customers. Plus there's the added challenge of managing staff with a heavy workload. So it's about doing what you can, as fast as you can.
WHAT WOULD YOU SAY TO SOMEONE WHO IS THINKING OF JOINING JFC?
Definitely do it, the opportunities are endless. It's really easy to succeed if you want to and JFC gives you the tools and training to get where you want to go.
Being a family business, you're not just a number. Plus Sam Fillmore and the senior leadership team are really involved – you don't really see that in larger corporate companies.
WHAT'S THE NEXT STEP?
I really want to grow the small works division and make it the best it can be.
LEARN FROM THE BEST
YOU HAVE A BACHELOR OF BIOMEDICAL SCIENCES, BUT NOW WORK FOR JFC AS A QUANTITY SURVEYOR…WHAT ATTRACTED YOU TO CONSTRUCTION?
When I began working for JFC as a PA I knew nothing about construction, but after a few months I started to get really interested in the industry. Someone mentioned becoming a Quantity Surveyor to me and I had no idea what it was. But then I found out a bit more about it, and it really piqued my interest. Now I have a qualification in quantity surveying and with the current boom, there's no better time to be in construction.
WHAT DO YOU LIKE MOST ABOUT WORKING FOR JFC?
Definitely the people and the environment. Everyone here is really supportive and the culture is great, we have a lot of fun. JFC has really supported me to get my qualification, including assisting with study costs and enabling me to have time out to attend lectures and do study.
WHAT DO YOU ENJOY MOST ABOUT YOUR JOB?
I really enjoy learning and as I am still relatively new to this, I learn new things every day about the construction industry and how things are built.
WHAT ARE THE MAIN CHALLENGES?
Learning is both my greatest joy and my greatest challenge; it can be frustrating at times when there are gaps in your knowledge. There is so much to learn about how things are built, why they are constructed a certain way, the cost of certain materials and so on. Sometimes I have to stand back and remind myself that I am still new to this and that it's okay to ask questions. Fortunately, everyone is really helpful and willing to share their knowledge.
THESE THINGS ALWAYS CHANGE, BUT WHAT ARE YOUR LONG-TERM CAREER ASPIRATIONS?
In the long term, I'm keen to move into project management.
WHAT SORT OF PROJECTS HAVE YOU BEEN INVOLVED IN?
I've been lucky enough to assist in a variety of projects in the past 18 months – a new subdivision development, hardscape works at Ormiston Junior College, an upgrade to Freyberg Place and the Ellen Melville Building.
HOME SAFE EVERYDAY
Our training programmes equip our employees with the tools and skills to confidently and safely undertake their work. Our excellent safety record is testament to JFC's commitment to ensuring our staff return home safely to their families every single day.
COMMUNITY ENGAGEMENT
We're committed to supporting and developing the communities in which we operate, through creation of employment opportunities and helping the next generation to learn and succeed.
We're helping people get started in construction careers with our support for the Tāmaki Skills and Career Hub (part of the Tāmaki Regeneration Project) and the Youth Connections Employers Pledge.
The Tāmaki Skills and Career Hub connects local Tāmaki people with local employment opportunities and enables them to gain training and qualifications.
We're also helping Auckland youth into construction careers with the Youth Connections Employers Pledge. The pledge matches employers with youth that are seeking employment opportunities in Auckland. We aim to help future proof our workforce and provide career pathways for our young people.
Our company culture encompasses an exciting working environment where we actively encourage our employees to achieve.